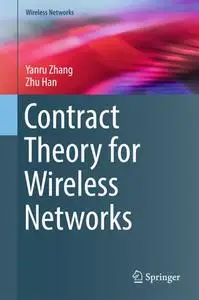 Contract Theory for Wireless Networks by Yanru Zhang
English | PDF,EPUB | 2017 | 131 Pages | ISBN : 3319532871 | 4.95 MB
This book presents theoretical research between wireless communications, networking, and economics using the framework of contract theory. This work fills a void in the literature by closely combining contract theoretical approaches with wireless networks design problems. Topics covered include classification in contract theory, reward design, adverse selection, and moral hazard.
The authors also explore incentive mechanisms for device-to-device communication in cellular networks, insurance plans for service assurance in cloud computing markets with incomplete information, multi-dimensional incentive mechanisms and tournament based incentive mechanisms in mobile crowdsourcing. Financial applications include financing contracts with adverse selection for spectrum trading in cognitive radio networks and complementary investment of infrastructure and service providers in wireless network visualization.
This book offers a useful reference for engineers and researchers in the wireless communication community who seek to integrate the notions from contract theory and wireless engineering, while emphasizing on how contract theory can be applied in wireless networks. It is also suitable for advanced-level students studying information systems or communications engineering.
Without You And Your

Support

We Can't Continue
Thanks For Buying Premium From My Links For

Support