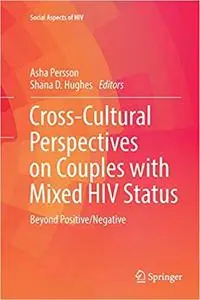 Asha Persson, Shana D. Hughes, "Cross-Cultural Perspectives on Couples with Mixed HIV Status: Beyond Positive/Negative"
2016 | pages: 285 | ISBN: 3319427237 | PDF | 4,4 mb
This edited volume presents a detailed portrait of couples living with mixed HIV status, where one partner is HIV-positive and the other negative. Readers will come to understand the various and complex ways in which these mixed-status, or serodiscordant couples build a life together within the shadow of HIV-related stigma. Spanning the globe, coverage explores serodiscordance as a negotiated practice and process, inseparable from the social context in which it is situated. The book shows how couples draw on diverse and sometimes contradictory cultural discourses of medicine, romance, and "normality" to make sense of and manage their mixed HIV status and any perceived risks, not uncommonly in ways that depart from prevailing HIV prevention messages. Throughout, compelling personal stories accompany the empirical research, sharing the firsthand experiences of men and women in serodiscordant relationships. Bringing together research from diverse disciplines and geographical regions, this book contributes important insights for future HIV health promotion as well as offers new knowledge to scholarship on the cultural intersections of illness and intimacy. It will appeal to a broad audience working across the fields of HIV, health, gender, sexuality, development, and human rights.
My Link