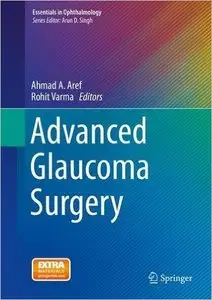 Advanced Glaucoma Surgery (Essentials in Ophthalmology) by Ahmad A. Aref and Rohit Varma
English | 2015 | ISBN: 3319180592, 3319359878 | 140 pages | PDF | 7 MB
This text provides expert instruction on the techniques currently employed for the surgical treatment of glaucomatous disease, covering both the host of novel microinvasive devices for treatment of milder stages and the refined strategies that enhance success rates in patients with advanced disease. The critical steps in each procedure are clearly described with the aid of many high-quality illustrations and surgical videos. Pearls and pitfalls of the various techniques are highlighted, and helpful information is provided on indications, preoperative considerations, potential intra- and postoperative complications, and strategies for reducing the incidence of such adverse events. Each treatment method is addressed in a dedicated stand-alone chapter, ensuring ease of reference for the practitioner. Readers will find this book, written by internationally recognized experts in the field, to be an exceptional source of up-to-date information on advanced glaucoma surgical techniques.
My nickname -
interes