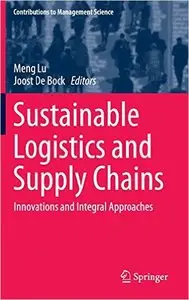 Sustainable Logistics and Supply Chains: Innovations and Integral Approaches (Contributions to Management Science) by Meng Lu and Joost De Bock
English | 2015 | ISBN: 3319174185, 3319365797 | 185 pages | PDF | 5 MB
This book addresses the main challenges affecting modern logistics and supply chains and is organized according to five main themes: supply chain strategy and management, information and communication technology (ICT) for logistics and related business models, vertical and horizontal collaboration, intelligent hubs (e.g. ports and cities) and policy for sustainable logistics. The key findings presented are based on both extensive research and on business cases. The book examines logistics from a comprehensive viewpoint embracing the entire supply chain. The overarching advanced logistics and supply chain concept at the heart of this book endeavors to contribute to a sustainable intelligent transport system by making it more efficient, cost-effective, safe, reliable and competitive. Specifically, the book focuses on the need for a variety of supply chain, logistics and transport options, on the potential offered by technological developments, infrastructural and organizational aspects, information flows, the financial and legal domain, harmonization and the complexity of implementation. In closing, the book presents new approaches to the coordination of sound business and governance models.
My nickname -
interes