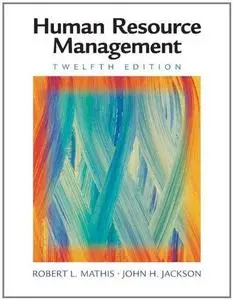 Human Resource Management By Robert L. Mathis, John H. Jackson
2007 | 623 Pages | ISBN: 0324542755 | PDF | 16 MB
Take the most current look at human resource management and its impact on the success of organizations today with the latest edition of HUMAN RESOURCE MANAGEMENT from Mathis/Jackson. Whether you are currently a practicing human resource management professional or plan to use HR knowledge in your career this comprehensive market-leading text has the information you need for ongoing professional success. This authoritative text offers a leading resource for preparation for professional HR certification by providing coverage of all major topics for the PHR and SPHR professional examinations given by the Human Resource Certification Institute (SHRM). This edition effectively blends theory and practice as it highlights the latest trends in human resource today, including strategic HR, employee retention, HR technology, talent management, total rewards, risk management, and workforce demographics changes. An updated research and academic approach with relevant examples demonstrates how HR is contributing to and impacting overall organizational success.. The book's application approach details how emerging trends in technology, globalization, and HR Metrics are driving changes in HR management today. Valuable learning features, from the latest HR headlines to HR Best Practices, add to your knowledge of how current events impact HR and shape success today. This edition's new integrated CengageNOW online learning system helps you efficiently manage and complete course requirements, with personalized study plans that maximize study time as you focus on the areas most challenging for you. The new HR BizFlix video clips from today's feature movies put HR principles in action. Find everything you need to understand the latest transformations in HR today and how HR can contribute to your success, both individually and organizationally, success with Mathis/Jackson's HUMAN RESOURCE MANAGEMENT, 12E.