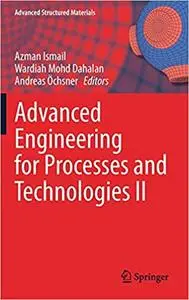 Advanced Engineering for Processes and Technologies II: 147 (Advanced Structured Materials)
by Azman Ismail
English | 2021 | ISBN: 3030673065 | 675 Pages | PDF EPUB | 71 MB
This book "Advanced Engineering for Processes and Technologies II" provides a good platform for participating researchers and academicians to share their latest innovation, technology and research findings in the areas of marine engineering technology and applications, sea management as well as engineering education. It offers an opportunity for academicians of the Universiti Kuala Lumpur, Malaysian Institute of Marine Engineering Technology (UniKL MIMET) to exchange ideas and establish a professional network. There are more than 30 papers covering a wide range of topics related to technologies and education including simulation, intellectual discussion, environmental awareness, enhancement of knowledge and skills. The aim of this book focuses more on the numerous technological methods used for the establishment of engineering innovation and productivity through their competitive research findings and the exposure of their relative merits and limitations. The papers shared in this issue will enable other researchers to generate interest and novel ideas that can lead to the discovery of new engineering knowledge.