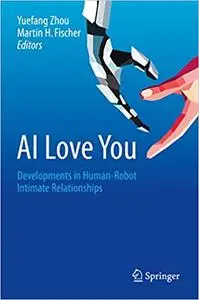 Yuefang Zhou, "AI Love You: Developments in Human-Robot Intimate Relationships"
2019 | English | ISBN: 3030197336 | 189 pages | PDF | 4 MB
Using an interdisciplinary approach, this book explores the emerging topics and rapid technological developments of robotics and artificial intelligence through the lens of the evolving role of sex robots, and how they should best be designed to serve human needs. An international panel of authors provides the most up-to-date, evidence-based empirical research on the potential sexual applications of artificial intelligence. Early chapters discuss the objections to sexual activity with robots while also providing a counterargument to each objection. Subsequent chapters present the implications of robot sex as well as the security and data privacy issues associated with sexual interactions with artificial intelligence. The book concludes with a chapter highlighting the importance of a scientific, multidisciplinary approach to the study of human - robot sexuality.