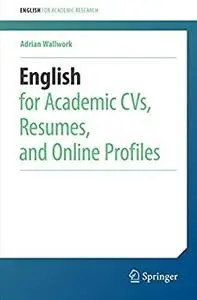 English for Academic CVs, Resumes, and Online Profiles (
English for Academic Research)
by Adrian Wallwork
English | 2019 | ISBN: 3030110893 | 200 Pages | PDF | 4 MB
Are you a graduate, postgraduate or PhD student? Building a CV or profile can be difficult for anyone, but especially for those whose first language is not English. This book is essential for those looking to promote themselves in the academic community, and can be used both for self-study, as well as in an English for Academic Purposes (EAP) course. The book contains tips, do's and dont's, and discussion points that can be used by instructors.