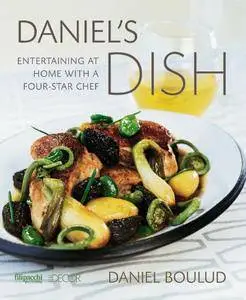 Daniel's Dish: Entertaining at Home With a Four-Star Chef by Daniel Boulud
English | 2003 | ISBN: 2850186627 | 192 pages | EPUB | 14,4 MB
With sumptuous photographs of each dish and recommendations for the perfect wine pairings, celebrated chef Daniel Boulud makes it easier than ever to delight and impress your family and friends with these thrilling yet accessible dishes and recipes straightforward enough for even an amateur to attempt. With some planning and fresh, seasonal ingredients, the home chef can create dishes that reveal the depth of flavor and surprising contrasts patrons have come to expect at Boulud's restaurants.
Many of the delectable delights - including cocktails and starters, fish and shellfish, meat and poultry dishes, breads and desserts - have been tested at Boulud's four star restaurant DANIEL and have been compiled here for the first time. Daniel's Dish is the ideal book for everyone who loves to cook - and eat!
My nickname -
interes