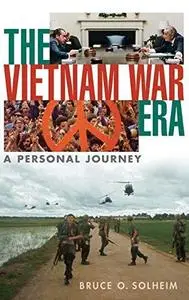 The Vietnam War Era: A Personal Journey By Bruce O. Solheim
2006 | 272 Pages | ISBN: 0275983080 | PDF | 1 MB
There are many lessons to be learned from the Vietnam War, foremost among them being that war as an instrument of peace is not viable. Solheim provides a full picture of the war era at home and in Southeast Asia by combining historical narrative with biographical profiles and personal reflections. He allows the story to unfold in multiple layers, as seen through the eyes of those who were involved on all sides of the conflict: the North Vietnamese, the South Vietnamese, the American generals and politicians, and the American war correspondents and antiwar protestors.With this book, Solheim explores, and hopes to answer, vital questions about the American war in Vietnam. What is the meaning and significance of the Vietnam War for Americans today? What lessons have Americans learned from our defeat and how should we apply that knowledge in implementing current foreign policy? Who or what is to be blamed for the loss in Vietnam? How can we heal our nation from the Vietnam War syndrome? How do we fit the Vietnam War era into our greater historical narrative?