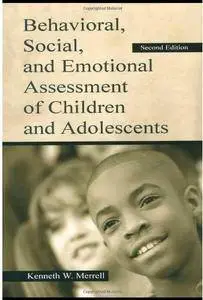 Sara A. Whitcomb, Kenneth W. Merrell - Behavioral, Social, and Emotional Assessment of Children and Adolescents (2nd edition)
Published: 2002-10-01 | ISBN: 0805839070 | PDF | 480 pages | 30.92 MB
Behavioral, Social, and Emotional Assessment of Children and Adolescents, Second Edition was written to provide a comprehensive foundation for conducting clinical assessment of child and adolescent social-emotional behavior in a practical, scientific, and culturally appropriate manner. It is divided into two major sections.
Part I includes eight chapters that provide a general foundation for assessment practice. These chapters include coverage of basic professional and ethical issues, classification and diagnostic problems, and six primary assessment methods, which are presented in detail. Part II includes six chapters on applications for assessing specific social-emotional behavior domains, including internalizing and externalizing problems, social skills and peer relations, young children, and diverse cultural groups. Together, these two sections provide a framework for a model of assessment that is practical, flexible, sensitive to specific needs, and empirically sound.
Changes in the second edition of this book include:
increased coverage of the practice of functional behavior assessment;
updated test reviews;
reviews of new assessment instruments;
updated information on legal and ethical issues;
updated information on assessment and cultural diversity; and
a handy appendix with contact information for all publishers of instruments discussed in the book, including Web site addresses.
To the greatest extent possible, this book weaves together the most recent research evidence and common application issues. It is specifically relevant to practitioners and researchers in the fields of school psychology and child clinical psychology, but will also be of interest to those in related disciplines, such as counseling, social work, child psychiatry, and special education.