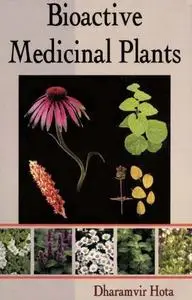 Bioactive medicinal plants By Dharamvir Hota
2007 | 277 Pages | ISBN: 8189729195 | PDF | 13 MB
Medicinal plants are plants whose extracts can be used directly or indirectly for the treatment of different ailments. In the world more than 30 per cent of the pharmaceutical preparations are based on plants. Scientists throughout the world are trying to explore the precious assets of medicinal plants to help the suffering humanity. An increasing reliance on the use of medicinal plants in the industrialised societies has been traced to the extraction and development of several drugs and chemotherapeutics from these plants. The medicinal values of these plants are due to the presence of small doses of active compounds which produces physiological actions in the human and animal body. The present book explores the recent developments in the field of botanical medicine. It provides vital information on various bioactive compounds present in plants and their use in the synthesis of pharmaceuticals. Educated readers, practitioners/ and academics of natural sciences will be benefitted by the contents of this work.