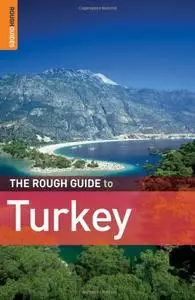 The Rough Guide to Turkey, 7 edition by Marc Dubin, Terry Richardson
English | ISBN: 1848364849 | 2010 | PDF | 752 pages | 21,8 MB
"The Rough Guide to Turkey" is your essential travel guide to this vast and fascinating country. Fully revised and updated, the guide provides unparalleled coverage of everything from Istanbul's nightlife to the cave churches of Cappadocia, with accurate maps, a handy language section and beautiful colour photography throughout. You'll find informed practical advice on what to see and do, from bartering at a bazaar to hiking the Lycian Way, plus honest reviews of the best hotels, bars, clubs, shops and restaurants for all budgets. Expert accounts on hamams, shopping and food and drink give you the day-to-day essentials, whilst a comprehensive history section puts everything into context. "The Rough Guide to Turkey"'s richly illustrated introduction to the country's highlights is complimented by full-colour sections describing outdoor activities, Turkish cuisine and the country's most incredible architectural heritage. Make the most of your time with "The Rough Guide to Turkey".
Note: My nickname -
interes