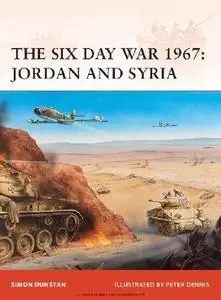 The Six Day War 1967: Jordan and Syria (Osprey Campaign 216)
2009 | ISBN: 1846033640 | English | 98 Pages | True PDF | 6,5 MB
Following the lightning destruction of the Egyptian forces at the outbreak of the Six Day War, Israel turned to the forces of Jordan and Syria, with whom Egypt had signed a mutual-defence pact, and who had now entered the war. Jordan's army moved against West Jerusalem and central Israel, while Syria began shelling Israeli towns from the seemingly impregnable Golan Heights.
The IDF's invasion of the Golan was as daring and successful as its more famous Egyptian victory, but its success in Jordan - taking the West Bank - sowed the seeds of its future troubles. Comprehensively illustrated with artwork, maps and battlefield views, this new history brings one of the most important of 20th century campaigns to life.