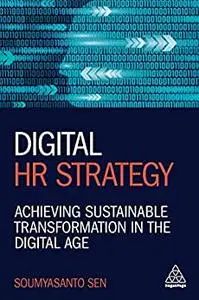 Digital HR Strategy: Achieving Sustainable Transformation in the Digital Age
by Soumyasanto Sen
English | 2020 | ISBN: 1789661242 | 312 Pages | PDF EPUB | 14 MB
We are living in an uncertain world that is rapidly changing with an overload of information and a continual rise of technologies. Automation, the gig economy, digital platforms and other innovations are changing the fundamental nature of work and are having a significant impact on the workforce, workplace and the HR function. Digital HR Strategy is crucial reading for all HR practitioners and leaders wanting to ensure that their organization adapts to this changing and increasingly competitive environment by creating a strategic approach for sustainable transformation which goes beyond conventional digital HR propositions. Featuring case studies from organizations including Airbnb and PepsiCo, it covers areas such as the importance of cultural change and creating a human-centric employee experience, leveraging value propositions, and harnessing data insights and analytics to improve performance.