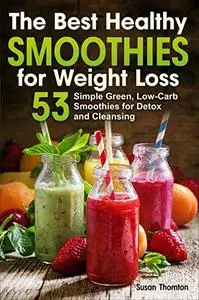 The Best Healthy Smoothies for Weight Loss: 53 Simple Green, Low-Carb Smoothies for Detox and Cleansing by Susan Thornton
2019 | ISBN: 170893913X | ASIN: B081MC1NP8 | English | 113 pages | EPUB | 3 MB
Do you want to get rid of stubborn body fat?
Do you want to shed off a couple of pounds without hard workouts?
Enjoy nearly endless options for imaginative and healthy smoothies with more than 50 nutritious, easy-to-make recipes. The Healthy Smoothies Recipe Book for Weight Loss filled with tasty mix-and-match ideas, for crafting creative smoothies—from brain-boosting breakfasts to supercharged afternoon snacks.
This smoothie recipe cookbook contains:
Green Veggie Smoothies for Weight Loss
Low-Carb Smoothies for Weight Loss
Sweet Fruits Smoothies for Weight Loss
Detox and Cleanse Smoothies
Weight Loss Smoothies for Chocolate Lovers
Trust me, it does not take long to prep these smoothies for a burst of flavor and energy. These smoothie recipes are your go-to powerhouse with nutritional value without adding empty calories.
So, what are you still waiting for? Let's get right to it and start losing weight for a healthier lifestyle.