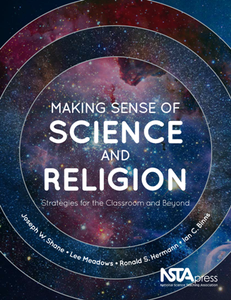 Making Sense of Science and Religion : Strategies for the Classroom and Beyond
by Joseph W. Shane, Lee Meadows
English | 2020 | ISBN: 1681405768 | 177 Pages | PDF | 3.25 MB
It's inevitable: If your lessons deal with evolution, genetics, the origin of the universe, or climate change, some students are bound to question whether they can reconcile what you teach with what they believe about religion.
Making Sense of Science and Religion is the book that will help you anticipate and respond to their questions-and help students learn science while maintaining their religious beliefs. Understanding that science and religion can co-exist can also make students more willing to learn, regardless of messages to the contrary that they may hear outside of your classroom. This book is divided into three parts: (1) a framework for addressing science-religion issues in a legal, constitutional manner; (2) guidance on teaching specific scientific concepts at every grade level; and (3) advice for engaging families, administrators, school boards, policy makers, and faith communities. The book's authors are all personally and professionally invested in the subject. They are a mix of K-12 teachers, college professors, and experts from organizations such as the American Association for the Advancement of Science and the Smithsonian National Museum of Natural History. As the preface notes, their hope is that you'll find the concise yet comprehensive nature of this book useful to your everyday work and to your greater understanding of science and religion.
If you want to support my blog, then you can buy a premium account through any of my files (i.e. on the download page of my book). In this case, I get a percent of sale and can continue to delight you with new books!