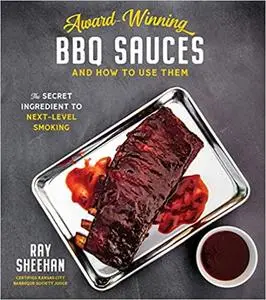 Ray Sheehan, "Award-Winning BBQ Sauces and How to Use Them: The Secret Ingredient to Next-Level Smoking"
English | ISBN: 1645670058 | 2020 | EPUB | 176 pages | 173 MB
Get Unforgettable BBQ with Handmade Sauces Voted "Best in the World"
Kick the flavor up a notch by making award-winning sauces with wholesome ingredients in your own backyard. From Memphis Mop BBQ Sauce and Kansas City BBQ Sauce to less traditional flavors like Cherry Bourbon BBQ Sauce and Tangy Peach BBQ Sauce, there's no end to the combinations you can create. Each specialty sauce takes out artificial ingredients like high-fructose corn syrup and flavor enhancers like monosodium glutamate (MSG) found in many store-bought sauces, so you'll always have a healthy foundation for delicious showstoppers like Slow-Smoked Memphis-Style Ribs, Texas-Style Beef Brisket and even Asian BBQ Smoked Pork Belly Bites. With notes of smoke and secret ingredients sure to leave everyone satisfied, these sauces are going to bring a new world of flavor to your cookouts.