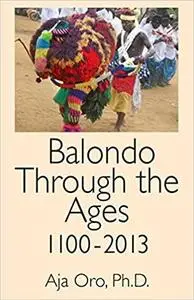 Balondo Through the Ages 1100-2013 by Aja Oro.
English | ISBN: 1634981243 | 96 pages | EPUB | April 28, 2015 | 0.58 Mb
Within the pages of Balondo Through the Ages 1100‒2013, author and Balondo expert Aja Oro properly documents the Balondo story, in the form of a history book, for the perusal of all humankind. The information contained in this book is also going to be preserved in the form of a Balondo website. Balondo Cultural Heritage, Inc., which will act as a museum and clearinghouse for research materials unique to the Balondo experience, has also been established. Ultimately, when all of the unmet goals and objectives pertaining to Balondo and its history have been achieved, the Balondo people will find themselves once again on the world map — a prospect that will enable them to emerge from their seeming obscurity and be recognized as one of the best African cultures in the world.
Balondo Through the Ages is the first original one-time work written by Aja Oro, a pure Balondo man who has chronicled throughout the pages of this book about a thousand years of the Balondo story, highlighting the two historical voyages made by Balondo from the Congo to Calabar, Nigeria, and then to the south-west littoral region of Cameroon. Also, in a bid to ensure that the narrative will be viewed as a comprehensive rather than a disjointed panorama, Aja Oro has equally made the case for the many threads of continuity running through Balondo's total historical experience without which it would not have been easy to read and understand such an unprecedented extraordinary long period in the Balondo historical experience as a whole.