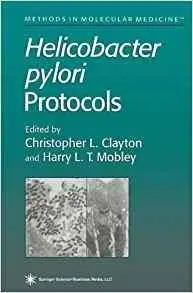 Helicobacter Pylori Protocols (Methods in Molecular Medicine) by Christopher L. Clayton
English | 11 Sept. 2010 | ISBN: 1617370207 | 292 Pages | PDF | 16.75 MB
Helicobacter pylori Protocols offers an outstanding collection of state-of-the-art protocols for the identification and molecular manipulation of H. pylori. The authoritative contributors supply detailed and readily reproducible protocols for the culturing of H. pylori, for the isolation and restriction endonuclease digestion of H. pylori chromosomal DNA, and for the transformation and insertional mutagenesis of H. pylori. They also provide molecular epidemiological techniques, including ribotyping, PCR-RFLP, and RAPD-PCR. These procedures have been developed by leading practitioners to solve the difficult technical problems created by the application of the powerful bacterial genetic and molecular cloning techniques to H. pylori.