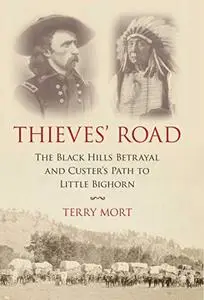 Terry Mort, "Thieves' Road: The Black Hills Betrayal and Custer's Path to Little Bighorn"
English | 2015 | ISBN: 1616149604 | EPUB | pages: 336 | 2.8 mb
In the summer of 1874, Brevet Major General George Armstrong Custer led an expedition of some 1000 troops and more than one hundred wagons into the Black Hills of South Dakota. This fascinating work of narrative history tells the little-known story of this exploratory mission and reveals how it set the stage for the climactic Battle of the Little Bighorn two years later.What is the significance of this obscure foray into the Black Hills? The short answer, as the author explains, is that Custer found gold. This discovery in the context of the worst economic depression the country had yet experienced spurred a gold rush that brought hordes of white prospectors to the Sioux's sacred grounds. The result was the trampling of an 1868 treaty that had granted the Black Hills to the Sioux and their inevitable retaliation against the white invasion.The author brings the era of the Grant administration to life, with its "peace policy" of settling the Indians on reservations, corrupt federal Indian Bureau, Gilded Age excesses, the building of the western railroads, the white settlements that followed the tracks, the Crash of 1873, mining ventures, and the clash of white and Indian cultures with diametrically opposed values.The discovery of gold in the Black Hills was the beginning of the end of Sioux territorial independence. By the end of the book it is clear why the Sioux leader Fast Bear called the trail cut by Custer to the Black Hills "thieves' road."