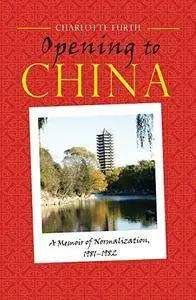 Opening to China: A Memoir of Normalization, 1981-1982
Cambria Press | English | 2017 | ISBN-10: 1604979844 | 158 pages | PDF | 28.67 mb
by Charlotte Furth (Author)
In 1981 an American historian of China, Professor Charlotte Furth, travelled to Beijing to teach young Chinese scholars about America. Professor Furth's year-long adventures, captured in this lively memoir, tell of classroom encounters, bureaucratic entanglements, expat frustrations, unlikely friendships, and misunderstandings both comic and grave. Her sponsor, the Fulbright program of academic exchange, had just revived after thirty years of the Cold War, and carried with it American hopes for a new era of cooperation between China and the United States. Her students were shaped by the Communist revolution, schooled in its political disciplines, and torn between thirst to experience the outside world at last and anxiety about what lay ahead in a post-Mao future.
Based on Professor Furth's detailed notes and letters home at the time, this book evokes the unique atmosphere of expectation and frustration that characterized the first years of normalization. Furth belongs to a generation of American China experts who hoped for alternatives to the reductive cold war policies that made communism not only an enemy abroad but a weapon against social democracy at home. She encountered young Chinese intellectuals who also wanted to imagine a more just society at home without abandoning their primary loyalties to culture and nation. Their search for common ground can help us understand the impact of the Mao era on society and the path Chinese elites have followed since the 1980s. For Americans, it also can tell us about positions taken when forced to defend American society against friendly yet penetrating scrutiny.
This book is a valuable account for specialists on Sino-American relations and on the formative years of the generation of Chinese who lead the People's Republic of China today. It is also a fascinating read for anyone who wants to explore the pleasures and perils of Chinese and American struggles to understand one another.
Feel Free to contact me for book requests, informations or feedbacks.