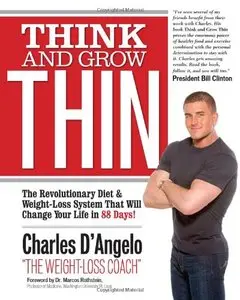 Think and Grow Thin: The Revolutionary Diet and Weight-loss System That Will Change Your Life in 88 Days! by Charles D'Angelo
English | ISBN: 1552100995 | 2012 | EPUB | 288 pages | 89 MB
Millions across this nation have eaten themselves into a prison they can't escape – and with Think and Grow Thin, Charles D'Angelo busts down those walls and unlocks the secrets of weight-loss success. This one-stop comprehensive guide targets your mind more than your muscles to help you battle the mindset that's making you fat. Whether you have 10, 200 or even more pounds to lose, Charles' easy-to-follow success strategies and eating plans will give you the skills and motivation to make weight loss finally work. Filled with inspirational success stories along with photographs. You won't believe your eyes!
My nickname -
interes