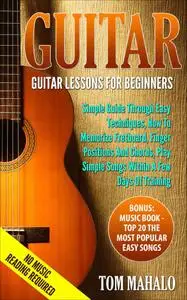 Guitar For Beginners: Guitar Lessons For Beginners, How To Play Guitar Chords, Guitar Songs With Chords, Guitar Lessons: Learn How To Play Guitar (Guitar, Beginners, Easy Techniques, Fretboard)
Tom Mahalo | 2016 | ISBN: 1537548921 | 92 pages | EPUB, PDF(conv) | 1 MB, 4 MB
Learn How To Play The Guitar Within A Few Days Of Training Today
Free BONUS Included
This book will help you to learn the basics of a guitar, and how to strum simple songs on your guitar within a few days of training; the guide shall teach how to hold the guitar, finger movement, how to memorize the fretboard, chords, and everything else you need to be well on your way to being a pro guitarist.
This book will also teach you how to play 20 popular and easy guitar songs. By the time you get to the conclusion part of this book, you will be on your way to become a great guitarist. As you get started, remember that being a pro guitarist takes time; therefore, be patient, and follow the simple rules and techniques.
Thanks again for downloading this book. I hope you enjoy it!