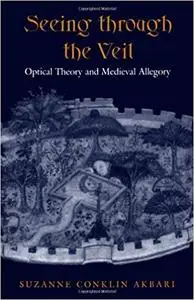 Suzanne Conklin Akbari, "Seeing Through the Veil: Optical Theory and Medieval Allegory"
English | ISBN: 0802036058, 144261482X | October 29, 2012 | EPUB | 375 pages | 987.86 KB
During the later Middle Ages, new optical theories were introduced that located the power of sight not in the seeing subject, but in the passive object of vision. This shift had a powerful impact not only on medieval science but also on theories of knowledge, and this changing relationship of vision and knowledge was a crucial element in late medieval religious devotion. In Seeing through the Veil, Suzanne Conklin Akbari examines several late medieval allegories in the context of contemporary paradigm shifts in scientific and philosophical theories of vision.
After a survey on the genre of allegory and an overview of medieval optical theories, Akbari delves into more detailed studies of several medieval literary works, including the Roman de la Rose, Dante's Vita Nuova, Convivio, and Commedia, and Chaucer's dream visions and Canterbury Tales. The final chapter, 'Division and Darkness,' centres on the legacy of allegory in the fifteenth century. Offering a new interdisciplinary, synthetic approach to late medieval intellectual history and to major works within the medieval literary canon, Seeing through the Veil will be an essential resource to the study of medieval literature and culture, as well as philosophy, history of art, and history of science