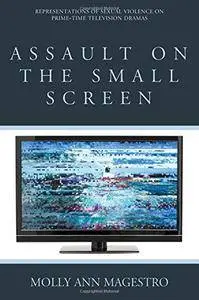 Assault on the Small Screen: Representations of Sexual Violence on Prime Time Television Dramas by Molly Ann Magestro University of Wisconsin-Washington County
English | 2015 | ISBN: 1442253975 | 206 pages | PDF | 1 MB
Over the last few decades, television programs have attempted to depict some of the more troubling elements of society with a more conscientious approach. Issues that networks were once reluctant to broadcast—such as sexual abuse, sexual assault, and rape—have become frequent plot points for many popular shows. Narratives that portray important social issues could potentially affect the ways individual viewers understand such incidents in the real world, so it is important to pay close and critical attention to the stories about rape that are broadcast to mass audiences.
In Assault on the Small Screen: Representations of Sexual Violence on Prime Time Television Dramas, Molly Ann Magestro examines the ways in which police and legal dramas on network and cable channels portray rape narratives. In this discussion, the author focuses on eight successful shows—NCIS, Criminal Minds, CSI, The Closer, Rizzoli & Isles, Dexter, Law and Order: Special Victims Unit, and The Good Wife. Each chapter offers a close reading and analysis of how one or more of the shows represent rape narratives and rape victims in ways that more or less address feminist understandings of rape and rape culture. The arguments in each chapter explore the specific narrative content of individual series rather than a single critical approach. Each of the eight shows considered within the book is the focus of its own argument, as the representations of rape narratives on television are as complex as issues surrounding rape can be in the real world.
In a time when rape narratives are frequently making headlines, taking the time to examine and understand the messages broadcast by a medium as ubiquitous as television serves an important role in developing an understanding of rape culture. A significant step toward this understanding, Assault on the Small Screen will be of interest to scholars of film and television, media studies, gender studies, criminology, and sociology.