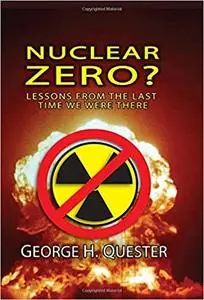 George H. Quester, "Nuclear Zero?: Lessons from the Last Time We Were There"
English | ISBN: 1412855993 | 2015 | 268 pages | AZW3 | 438 KB
George H. Quester argues that the possibility of nuclear war continues to loom despite the reduction in stockpiles by the major powers. Supporters of total nuclear disarmament often dismiss pessimistic objections to the possibility of reaching nuclear zero as being hypothetical, but this book looks at real illustrations for this possibility, taken from the years that gave the world the Manhattan Project.
Any advocate of total nuclear disarmament must deal with the challenge of "realist" analysts of international relations, those who worry that being at zero nuclear weapons, or even close to zero, would be unstable and dangerous. Mutual fears could be self-confirming, leading to cheating on disarmament, and even nuclear war. While such fears are often dismissed as theoretical or hypothetical, this book attempts to test them against the real-life experience of the last time we were at nuclear zero. The years from 1933 to 1945 saw many such self-confirming fears, leading to the Manhattan Project and the nuclear destruction of Hiroshima and Nagasaki.
Optimism about the future cannot be ruled out totally, but the history of our experience with nuclear disarmament must be examined carefully to identify the crucial prerequisites for elimination of such weapons of mass destruction. This book is required reading for courses on arms control, defense policy, and international relations, or for readers looking for historical background on a critical global issue.