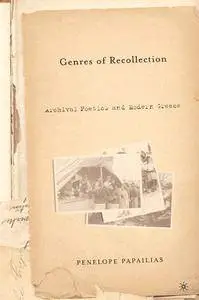 Penelope Papailias, "Genres of Recollection: Archival Poetics and Modern Greece"
Publisher: Palgrave | 2005 | ISBN: 1403961069 | English | PDF | 301 pages | 3.18 Mb
This innovative ethnography of history-in-the-making explores some of the most traumatic and wrenching experiences of twentieth-century modern Greece refugee crisis, transatlantic migration, civil war, urbanization, and industrialization. Hardly a survey, Genres of Recollection asks how the very categories of historical practice and knowledge–the witness, the archive, the event, and, of course, the historian and historiography themselves–have been defined, contested, and reimagined in the ongoing process of documenting and narrating the past. In a series of intricately-crafted case studies, Papailias peruses the personal archives and independent publications of a diverse cast of amateur historical producers-from a housewife and a farmer to an award-winning novelist and a cosmopolitan aristocrat. Despite not being historians (as they unabashedly acknowledged), these scribes, archivists, and authors, nonetheless, had been compelled to re-collect personal and community histories they believed were being forgotten or actively repressed in national or global narratives. By drawing attention to the disciplinary and geohistorical margins of History, this study challenges assumptions about where it would be most important and interesting to study the politics of historical production and, in the process, demonstrates the destabilizing potential inherent in anthropologys engagement with history.
'In Genres of Recollection, Penelope Papailias has given us a genre that productively defines recollection. Her book is an original exploration in the elusive but vital common ground of anthropology and history. Avoiding the abstruse abstractions that so often bedevil considerations of epistemology, Papailias brings to life the everyday social practices involved in the production of history by local writers and collectors and thereby challenges us to examine and compare the social conditions of our own intellectual production. An original and beautifully written contribution to the ethnography of Greece, this work is also an unusual experiment in the broadening of the anthropological vision.' - Michael Herzfeld, Harvard University

'In these stunning chapters on modern Greek history Penelope Papailias bypasses old disciplinary constraints to set forth a new theory and practice of anthropological reading. She finds her alternative archives in the works of amateur historians, the transcripts of Anatolian refugees, the memoir of a migrant to America, and a novel on the Civil War. The result is sustained interrogations and incisive insights concerning both the notion of an 'archive' and the historical phenomenon that is 'Greece.'' - Brinkley Messick, Professor of Anthropology, Columbia University

'The author responds to the famous question, 'What is History?' with the phrase 'Let's see what historians do.' Then, to explore this perspective, she gives the reader an ethnographic tour of historians' social worlds, thoughts and craft. I find this response quite ingenious. It is an original approach to writing about the writing of history.' - Antonis Liakos, Professor of History, University of Athens