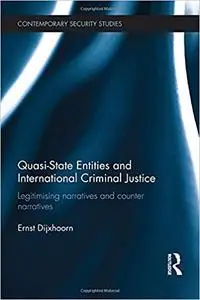 Ernst Dijxhoorn, "Quasi-state Entities and International Criminal Justice: Legitimising Narratives and Counter-Narratives "
English | ISBN: 1138224294 | 2017 | 216 pages | PDF | 5 MB
This book explores the intended and unintended impact of international criminal justice on the legitimacy of quasi-state entities (QSEs).
In order to do so, the concept of 'quasi-state entity' is introduced to distinguish actors in statehood conflicts that aspire to statehood, and fulfil statehood functions to a greater or lesser degree, including the capacity and willingness to deploy armed force, but lack the status of sovereign statehood. This work explores the ability of QSEs to create and maintain legitimacy for their actions, institutions and statehood projects in various constituencies simultaneously. It looks at how legitimacy is a prerequisite for success of QSEs and, using critical legitimacy theory, assesses the legitimating narratives of QSEs and their statehood adversaries. The book links international criminal justice to statehood projects of QSEs and their success and legitimacy. It looks at the effects of international criminal justice on the ability to create and maintain legitimacy of QSEs, an approach that leads to new insights regarding international courts and tribunals as entities competing with states over statehood functions that increasingly have to take the legal implications of their actions into consideration. Most important, a close assessment of the legitimising narratives of QSEs, counter narratives, and the messages sent by international criminal justice with which QSEs have to deal, and their ability to overcome legitimacy crises, provides insight on QSEs and the complex processes of legitimation.
This book will be of much interest to students of international criminal justice, political violence, security studies and IR.