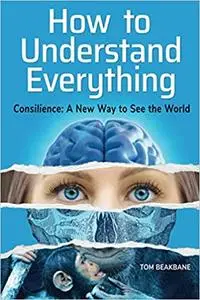 How to Understand Everything: Consilience: A New Way to See the World
By Tom Beakbane
English | 2021 | ISBN : 0973528850 | 307 Pages | EPUB | 0.9MB
Are you sometimes puzzled by how people behave?
There is a new way to understand human beings — and everything else.
It's known as consilience.
Consilience is a new paradigm that reveals how things self-organize from the bottom up – in contrast to how we think and communicate, which is from the top down.
This new paradigm exposes the realities of human nature on both personal and collective levels revealing the overlap between different domains of life: family, health, business, technology, politics, and spirituality.
Consilience will help you see things differently – and make people less puzzling.
Set off on a mind-altering journey with Tom Beakbane, president of Beakbane: Brand Strategies & Communications Inc., who has helped generate over $5 billion in brand value for his clients, and discover a new way to see the world.