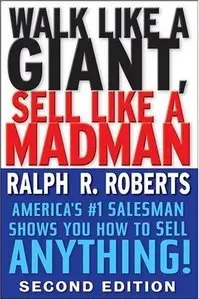 Ralph R. Roberts, Joe Kraynak "Walk Like a Giant, Sell Like a Madman: America's #1 Salesman Shows You How to Sell Anything, 2 edition"
English | ISBN: 0470372818, 0887308430 | 2008 | PDF | 272 pages | 14,5 MB
As last years best-selling realtor in America, Ralph R. Roberts didn't just outperform his peers, he blew them away. While the average realtor sells seven homes per year, Roberts sold more than 500! Roberts' high-energy, infectious enthusiasm for selling is legendary and has earned him well-deserved national recognition; he has been profiled in Time, by the Associated Press, and in numerous newspapers coast to coast. He also grants nearly 100 radio interviews per year, commands $10,000 a day for speaking engagements, and is paid by everyone from car salesmen to stockbrokers to let them "shadow" him for a day just to see how he does it. Now in Walk Like a Giant, Sell Like a Madman, Roberts brings all his unique, off-the-wall selling techniques and his very serious work ethic to the printed page for the first time.
Roberts' strategies truly set him apart from the average realtor. He looks and listens to what people want and tries to find it for them. He is adept at identifying the true decision maker in the family in order to expedite closings. Most important, he knows how to make an impression. His fervent approach, personal charisma and down-home, Midwestern wisdom about goal-setting and achievement all come through in this page-turning primer. More than a gutsy success story, Walk Like a Giant, Sell Like a Madman is a breakthrough blockbuster no salesperson should be without its no-nonsense advice is guaranteed to help all salespeople energize their careers and sell anything.
My nickname -
interes