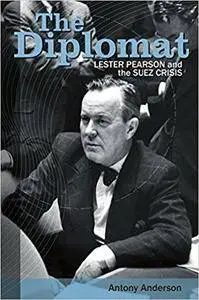 Antony Anderson, "The Diplomat: Lester Pearson and the Suez Crisis"
ISBN: 0864928742 | 2015 | EPUB | 400 pages | 3 MB
Saturday, November 3, 1956
The United Nations, New York City
about 10 p.m.
Lester Pearson, Canada's foreign minister (and future prime minister) stands before the United Nations General Assembly. He is about to speak, reading from a proposal composed of seventy-eight painstakingly chosen words. These words, shaped by caution and hope, are a last-ditch attempt to prevent a conflict in Egypt from igniting a conflagration throughout the Middle East. Pearson, in perhaps his finest hour, is about to carve out a razor's edge of common ground to bring together angry allies and bitter enemies by suggesting and making possible the creation of the first UN peacekeeping force.
Pearson's diplomacy throughout the Suez Crisis launched a blold experiment in international security and cemented Canada's reputation as "a moderate, mediatory, middle power." and yet, until now, no one has told the full story of how this Canadian diplomat led the world back from the brink of war. In a unique blending of biography and political history, Antony Anderson's The Diplomat draws from diplomatic cables, memoirs, diaries, anecdotes, official memoranda, and exclusive author interviews to create not only a compelling portrait of Pearson, the man at the centre of the negotiations, but also a nuanced analysis of the political maze navigated by Pearson to avert a bloody war