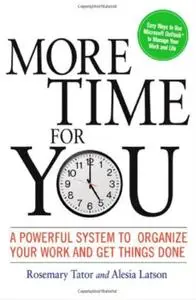 More Time for You: A Powerful System to Organize Your Work and Get Things Done by Rosemary Tator, Alesia Latson
English | 2010-08-11 | ISBN: 0814416470 | PDF | 240 pages | 2.8 MB
If you're overwhelmed and overworked, you don't need sympathy—you need a powerful system for getting more done in less time. More Time for You shows you how to take advantage of today's most versatile and effective productivity enhancers —mobile devices, online tools, and calendar software—to become more organized and lead a less stressful life. The authors reveal their proven, practical approach for prioritizing, achieving goals, reducing stress, and increasing your capacity to do what matters most. The book shows you how to:
Make better, faster decisions based on your priorities • Tame your inbox with easy and efficient e-mail triage techniques • Set up a calendar management and reminder system • Handle distractions and interruptions • Lose that nagging sense you are forgetting something • Maximize the benefits (and minimize the time sink) of social media
Illustrated with screen shots from Microsoft Outlook®, the authors' simple tips and step-by-step process make workplace organization a reality. Their upbeat tone and get-to-it approach make starting and sticking with the program easier than you'd ever imagine!
My nickname -
interes