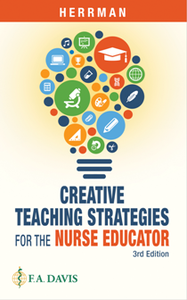 Creative Teaching Strategies for the Nurse Educator, 3rd Edition
by Judith W. Herrman
English | 2020 | ISBN: 0803694059 | 457 Pages | PDF | 5 MB
Be more creative in any setting. Here are nearly 200 practical, relevant, and easy-to-implement teaching strategies that will help engage your students in any classroom setting. Dr. Judith Herrman offers techniques gathered over many years from her own teaching experiences that are adaptable to personal teaching content, meet the needs of a variety of learning styles, and demonstrate innovation in nursing education.
If you want to support my blog, then you can buy a premium account through any of my files (i.e. on the download page of my book). In this case, I get a percent of sale and can continue to delight you with new books!