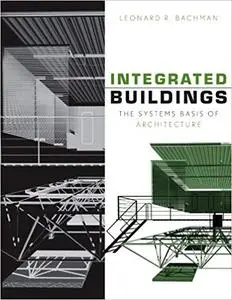 Leonard R. Bachman, "Integrated Buildings: The Systems Basis of Architecture"
English | 2002 | ISBN: 0471388270 | PDF | pages: 494 | 14.4 mb
An "anatomical" study of building systems integration withguidelines for practical applications
Through a systems approach to buildings, Integrated Buildings:The Systems Basis of Architecture details the practice ofintegration to bridge the gap between the design intentions andtechnical demands of building projects. Analytic methods areintroduced that illustrate the value, benefit, and application ofsystems integration, as well as guidelines for selecting technicalsystems in the conceptual, schematic, and design development stagesof projects.
Landmark structures such as Eero Saarinen's John DeereHeadquarters, Renzo Piano's Kansai International Airport, GlennMurcutt's Magney House, and Richard Rogers's Lloyd's of Londonheadquarters are presented as part of an extensive collection ofcase studies organized into seven categories:
- Laboratories
- Offices
- Pavilions
- Green Architecture
- High Tech Architecture
- Airport Terminals
- Residential Architecture
Advanced material is provided on methods of integration,including an overview of integration topics, the systems basis ofarchitecture, and the integration potential of various buildingsystems. An expanded case study of Ibsen Nelsen's design for thePacific Museum of Flight is used to demonstrate case study methodsfor tracing integration through any work of architecture.
Visually enhanced with more than 300 illustrations, diagrams,and photographs, Integrated Buildings: The Systems Basis ofArchitecture is a valuable reference guide for architecture andcivil engineering students, as well as architects, engineers, andother professionals in the construction industry.