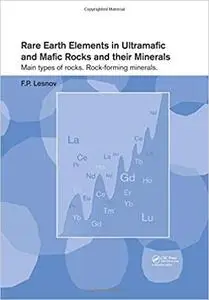 Rare Earth Elements in Ultramafic and Mafic Rocks and their Minerals: Main types of rocks. Rock-forming minerals by Felix P. Lesnov
English | 2010 | ISBN-10: 0415578906 | 608 pages | PDF | 3,7 MB
This book gives an overview of the world's literature on analytical data and theoretical concepts of the regularities of rare earth elements (REE) in ultramafic and mafic rocks of different chemical and mineral compositions – mantle restites (including those composing mantle xenoliths in alkali basaltoids), highly magnesium hypabyssal rocks, plutonic rocks of mafic-ultramafic and ultramafic-mafic massifs, as well as in the main minerals composing these rocks – olivines, orthopyroxenes, clinopyroxenes, plagioclases, and amphiboles. Much attention is given to a comparative analysis of the REE distribution in rocks and minerals from different types of massifs, complexes, and provinces. Various aspects of their intragranular and intermineral distribution are considered, and data on the coefficients of their partition between minerals and their parental melts as well as between coexisting minerals are generalized. Probable schemes of REE isomorphism in rock-forming minerals are discussed. The generalization is based on the results of analyses of several thousands of rock samples and more than 2000 analyses of minerals, part of which was carried out with samples from author's collections. The book is intended for specialists in petrology and geochemistry of ultramafic, mafic, and other types of igneous rocks as well as students of geological departments of colleges and post-graduate students.
My nickname -
interes