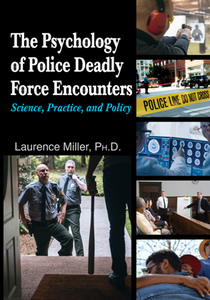 The Psychology of Police Deadly Force Encounters :
Science, Practice, and Policy
by Laurence Miller
English | 2020 | ISBN: 0398093261 | 305 Pages | PDF | 7.28 MB
The Psychology of Police Deadly Force Encounters: Science, Practice, and Police is a fascinating look into the reality of police work. The author integrates noted theories into a "street-wise" understanding of being a police officer. The focus of this book is on the use of deadly force by officers—a topic of considerable importance. The author discusses the psychosocial aspects of deadly force use, stemming from the individual officer, the situation, organizational influences, and the police culture. Expanding further into social issues, the controversial topic of race and use of deadly force is discussed. This depiction looks at both sides—that of racial victimization and that of the police—which helps to provide a rather unique perspective on this important issue. Of interest, the author breaks down the different dimensions of cognition as a factor in decision making among police, including the perception of the situation, the action taken depending on that perception, and the role of present and past memory. This will make for a useful training topic to alert officers to the cognitive processes that go into deadly force use—processes that they have the control to change to make a better decision. Next, the book delves into the biological factors that may be involved in police decision making—again where deadly force is involved. The various negative psychological impacts that a deadly force situation may bring about are identified and explained. This book will be useful as a tool for both law enforcement practitioners and researchers to better understand the intricacies of deadly force by the police. For researchers, the book has a multitude of references available for further exploration. It will prove to be a useful guide and reference volume for police managers and supervisors, mental health clinicians, investigators, attorneys, judges, law enforcement educators and trainers, rank and file police officers, including expert witnesses.
If you want to support my blog, then you can buy a premium account through any of my files (i.e. on the download page of my book). In this case, I get a percent of sale and can continue to delight you with new books!