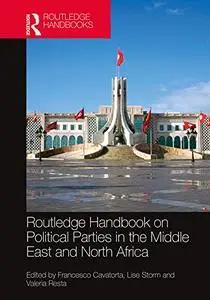 Routledge Handbook on Political Parties in the Middle East and North Africa by Francesco Cavatorta, Lise Storm, Valeria Resta
2021 | ISBN: 0367219867 | English | 392 pages | PDF | 42 MB
This comprehensive Handbook analyses the political parties and party systems across the Middle East and North Africa. Providing an in-depth, empirically grounded and novel study of political parties, the volume focuses on a region where they have been traditionally and often erroneously dismissed.
The book is divided into five sections, examining:
the trajectories of Islamist, Salafi, leftist, liberal, nationalist, and personalistic parties drawing from different countries;
the role political parties play in authoritarian and semi-authoritarian countries;
the centrality of political parties in democratic or democratising settings;
the relationship between parties and specific social constituencies, ranging from women to youth to tribes and sects; and
the policy positions of parties on a number of issues, including neo-liberal economics, identity, foreign policy and the role of violence.
This wide-ranging and systematic analysis is a key resource for students and scholars interested in party politics, democratization and authoritarianism, and the Middle East and North Africa.