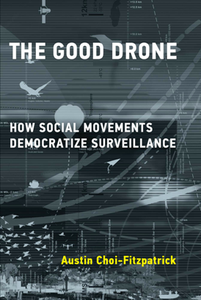 The Good Drone : How Social Movements Democratize Surveillance
by Austin Choi-Fitzpatrick
English | 2020 | ISBN: 0262538881 | 325 Pages | PDF | 19 MB
How small-scale drones, satellites, kites, and balloons are used by social movements for the greater good.
Drones are famous for doing bad things: weaponized, they implement remote-control war; used for surveillance, they threaten civil liberties and violate privacy. In The Good Drone, Austin Choi-Fitzpatrick examines a different range of uses: the deployment of drones for the greater good. Choi-Fitzpatrick analyzes the way small-scale drones–as well as satellites, kites, and balloons–are used for a great many things, including documenting human rights abuses, estimating demonstration crowd size, supporting anti-poaching advocacy, and advancing climate change research. In fact, he finds, small drones are used disproportionately for good; nonviolent prosocial uses predominate.
If you want to support my blog, then you can buy a premium account through any of my files (i.e. on the download page of my book). In this case, I get a percent of sale and can continue to delight you with new books!