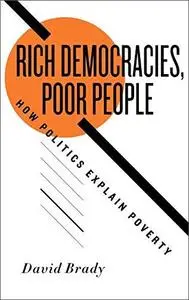 Rich Democracies, Poor People: How Politics Explain Poverty by David Brady
English | August 13, 2009 | ISBN: 019538587X, 0195385918 | EPUB/PDF | 280 pages | 11.4/1.98 MB
Poverty is not simply the result of an individual's characteristics, behaviors or abilities. Rather, as David Brady demonstrates, poverty is the result of politics. In Rich Democracies, Poor People, Brady investigates why poverty is so entrenched in some affluent democracies whereas it is a solvable problem in others. Drawing on over thirty years of data from eighteen countries, Brady argues that cross-national and historical variations in poverty are principally driven by differences in the generosity of the welfare state. An explicit challenge to mainstream views of poverty as an inescapable outcome of individual failings or a society's labor markets and demography, this book offers institutionalized power relations theory as an alternative explanation.
The power of coalitions for egalitarianism, Leftist political groups and parties, and the social policies they are able to institutionalize shape the amount of poverty in society. Where poverty is low, equality has been institutionalized. Where poverty is widespread, exemplified by the U.S., there has been a failure to institutionalize equality. A comprehensive and state-of-the-art study, Rich Democracies, Poor People places the inherently political choices over resources and the political organization of states, markets, and societies at the center of the study of poverty and social inequality.