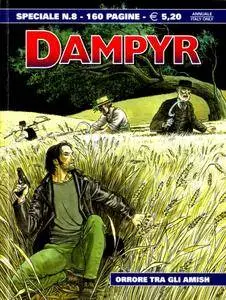 Dampyr Speciale N°8 – Orrore tra gli Amish (20-10-2012)
Italian | CBR | 160 pages | 110 MB
Tra gli Amish della Pennsylvania, è tradizione che, raggiunta la maggiore età, i giovani escano dalle loro comunità e viaggino per conoscere il mondo. Poi sceglieranno se tornare in seno alla loro religione e alle loro ferree regole o se, invece, diventare dei non credenti. Questo periodo si chiama "Rumspringa" e i giovani Amish vi sperimentano la libertà di bere, fumare, ballare e fare cose abituali per gli altri ragazzi della loro età. Ma quando, a Philadelphia, alcuni giovani Amish impegnati nel "Rumspringa" arrivano al punto di uccidere, ecco che interviene la Legge, nella persona di un giovane Amish rinnegato che ora lavora per la polizia degli Stati Uniti. A lui si uniranno Harlan e Kurjak, perché la caratteristica singolare di due degli assassini è quella di essere dei vampiri! Il loro Maestro delle Tenebre li aspetta in un villaggio sospeso nello spaziotempo, New Helder, dove le regole della comunità sono alquanto differenti da quelle solite… e molto più sinistre!
Pe... in ITALIANO CLICCA QUI
>&... Blog Here <<<
If you like this release please support Developer / Publisher and BUY it.
If you'll find that my links are dead please let me know through the Private Messages.
Please DO NOT MIRROR