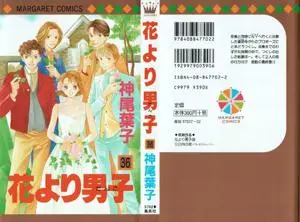 Hana yori Dango 1-36
English | KAMIO Youko | CBR | 36 Volumes | 1 Gb
Genre: Comedy, Drama, Harem, Romance, School, Life, Shoujo
Description:
Although Tsukushi Makino is from a poor family, she attends an elite school for the super rich, where her life has become intertwined with the "F4," the ruling boys of the school, in a whirlwind of love and confusion!

Note: Won the Shogakukan Manga Award for shōjo in 1996 and is the best selling shoujo manga in history.

Boys over Flowers officially ended with volume 36, but Yoko Kamio, just couldn't stay away from her beloved characters! Boys Over Flowers: Jewelry Box (Boys Over Flowers: Hana Yori Dango Some call it Volume 37) contains two short stories that take place 1 year after the end of Boys over Flowers volume 36. It also contains a section with some of the important events in the series that show the characters maturing, plus a special bonus strip! .