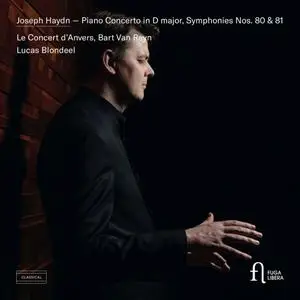 Bart Van Reyn, Lucas Blondeel & Le Concert d'Anvers - Haydn: Piano Concerto in D major, Symphonies Nos. 80 & 81 (2019)
FLAC tracks | 61:47 | 265 Mb
Genre: Classical / Label: Fuga Libera
Bart Van Reyn and Le Concert d'Anvers delve into two of Joseph Haydn's lesser–known symphonies. Dating from the autumn of 1784, when Haydn was nearing the end of his employment at the Esterházy court, both seem to anticipate the Paris symphonies that would shortly follow. Having been largely overlooked by historically informed performance specialists, Van Reyn's reading highlights the pair's mutual sense of artistic ambition, drawing out their concise but powerful musical drama. These are accompanied with Haydn's effervescent Piano Concerto in D major, featuring Belgian fortepianist Lucas Blondeel. Blondeel demonstrates his clear affinity with Haydn's solo writing, rendering a performance that captures the concerto's elegance while always sparkling with its composer's characteristic wit.