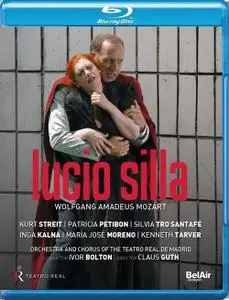 Ivor Bolton, Orchestra and Chorus of the Teatro Real de Madrid - Mozart: Lucio Silla (2018) [Blu-Ray]
BluRay | BDMV | MPEG-4 AVC Video / 27982 kbps / 1080i / 29,970 fps | 180 min | 42,6 Gb
Audio1: Italiano / LPCM Audio / 2.0 / 16-bit | Audio2: DTS-HD Master Audio / 5.1 / 48 kHz / 1962 kbps / 16-bit
Classical | BelAir Classiques | Sub: French, English, German, Spanish, Korean, Italian, Japanese, Korean
Mozart was not yet seventeen when Lucio Silla was created in Milan one December evening of 1772, yet we can still identify some of the elements that established the exceptionally-gifted child musician as the greatest composer of all times. Indeed, with Lucio Silla, although a neoclassical 'opera seria' in every way, it seems that Mozart was already learning to deconstruct and to free the traditional forms of musical drama from archaic conventions. The opera is centered around the love that Roman dictator Lucio Silla bears for his enemy's daughter Giunia, who favours the exiled senator Cecilio. After many twists and turns, the lovers are united in marriage and Silla renounces his crown. Tenor Kurt Streit is Lucio Silla, and soprano Patricia Petibon is Giunia for the last time, after having gained international recognition thanks to her numerous performances in this role, while mezzo-soprano Silvia Tro Santafe is the ardent Cecilio. In this monumental production, Claus Guth finds a way to respect both the classical setting and the formal innovations that make the opera so interesting. Ivor Bolton conducts the Orchestra and Chorus of the Teatro Real.