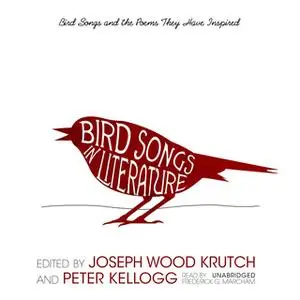 «Bird Songs in Literature» by Joseph Wood Krutch,Peter Kellogg
English | ISBN: 9781481536677 | MP3@64 kbps | 44 min | 20.4 MB
How many of us who have read of the skylark and nightingale since our school days actually have ever heard their song? And how many of us realize the extent to which birds have appeared in the works of leading English and American poets? The songs and calls of fifty of the more common birds of England and North America are paired with such classic poems as "The Raven" by Edgar Allan Poe, "The Oriole's Secret" by Emily Dickinson, "An Essay on Man" by Alexander Pope, "Roadless Area" by Paul Brooks, "To a Skylark" by Percy Bysshe Shelley, "The Birds of Killingworth" by Henry Wadsworth Longfellow, "The Princess" by Alfred Lord Tennyson, "The Oven Bird" by Robert Frost, "Thoreau's Flute" by Louisa May Alcott, and "The Wasteland" by T. S. Eliot. No effort was spared in obtaining the best field recordings to supplement those used from the Library of Natural Sounds at the Cornell Laboratory of Ornithology.