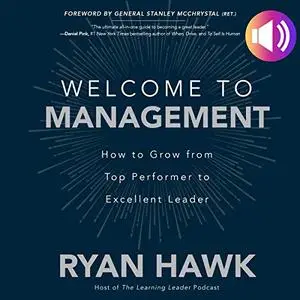 Ryan Hawk (Author, Narrator), "Welcome to Management: How to Grow from Top Performer to Excellent Leader "
English | ASIN: B07TN38XPG | 2020 | M4B@128 kbps | ~07:36:00 | 428 MB
"The ultimate all-in-one guide to becoming a great leader." (Daniel Pink)
From the creator and host of The Learning Leader Show, "the most dynamic leadership podcast out there" (Forbes) that will "help you lead smarter" (Inc.), comes an essential tactical guide for newly promoted managers.
Every year, millions of top performers are promoted to management-level jobs - only to discover that the tactics that got them promoted are not the tactics that will make them effective in their new role. In Welcome to Management, Ryan Hawk provides practical, actionable advice and tools designed to ensure that transition is a successful one.
He presents a new, actionable three-part framework distilled from best practices drawn from in-depth interviews with over 300 of the most forward-thinking leaders around the world, as well as his own professional experience going from exceptional individual producer to new leader. Learn how to:
Lead yourself: Build skills and earn credibility. Compliance can be commanded, but commitment cannot. People reserve their full capacity for emotional commitment for leaders they find credible, and credibility must be earned.
Build your team: Develop a healthy and sustainable culture of mutual trust and respect that creates cohesion. This includes effective hiring and firing practices.
Lead your team: Set a clear strategy and vision for your team, communicate effectively, and ultimately drive the results the organization is counting on your team to deliver.
Through case studies, hundreds of interviews, and personal stories, the audiobook will help high performers make the leap from individual contributor to manager with greater ease, grace, courage, and effectiveness. Welcome to management!