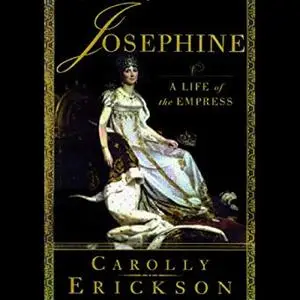 Carolly Erickson, S. Patricia Bailey (Narrator), "Josephine: A Life of the Empress"
ASIN: B000D1UZJC, ISBN: 0786162031 | 2005 | MP3@64 kbps | ~13:03:00 | 374 MB
When, in 1804, Josephine Bonaparte knelt before her husband Napoleon to receive the imperial diadem, few in the vast crowd of onlookers were aware of the dark secrets hidden behind the imperial facade. To her subjects she appeared to be the most favored woman in France: alluring, wealthy, and with the devoted love of a remarkable husband who was the conqueror of Europe. In actuality Josephine's life was far darker, for her celebrated allure was fading, her wealth was compromised by massive debt, and her marriage was corroded by infidelity and abuse.
Josephine's life story was as turbulent as the age, an era of revolution and social upheaval, of the guillotine and of frenzied hedonism. With telling psychological depth and compelling literary grace, Carolly Erickson brings the complex, charming, ever resilient Josephine to life in this memorable portrait, one that carries the reader from the sensual richness of her childhood in the tropics to her final lonely days at Malmaison.